Sparefit is a unique easy to use mobile Application with flawless management of Loyalty schemes, coupon scanning & redemption solution brings the tracing and tracking of the products being packed, dispatched and reach to end-user. This comes with
some powerful inbuilt features which will scale the performance of the sales, coupons, and points through the lifecycle of the coupon management.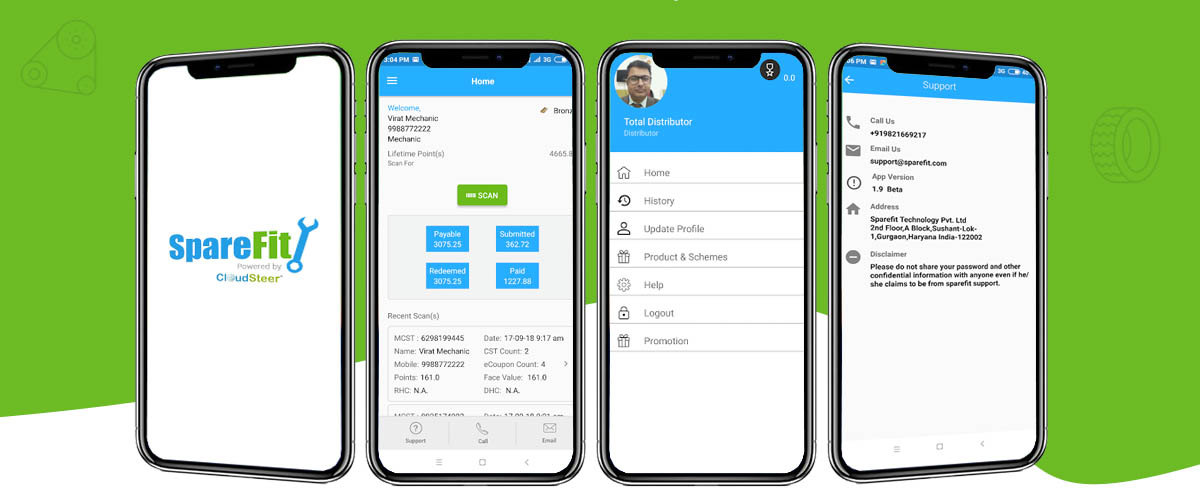 Mobile Application with unique Loyalty Management Solution for connecting Mechanics, Reborers & Retailers directly.
Prepare Incentive Schemes and build authentic customer data, Promote your Brand directly, improving your Brand loyalty via targeted marketing
Unique QR Code with UIN that can never be repeated with customers Scan2Check authenticity, with accurate coupon validation along with points collection & redemption
A Digital India Initiative, Redeem points through the app and send cash directly to the beneficiary's account. A unique Fraud Proof App which is Easy and User-friendly,Click of a button reporting.
Manufacturers can now track and receive notifications for its products in transit directly on their mobile app, Our app enables this unique feature by creating Unique QR code.
A Complete ERP system built to manage the entire Inventory right from manufacturing plant till the end customer.Application with a single view dashboard for the Management.
Learn More and Sign Up Now for a Free Demo